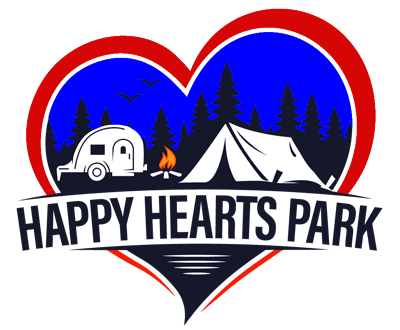 93 Cape Hurd Rd.
Tobermory, Ontario
519-596-2455
Happy Hearts 2023 Camping Rates
PRIME SEASON RATES
| | |
| --- | --- |
| June 9 - Sept 3 | Rates |
| BASIC SITE - no electricity | $52 |
| 15 AMP/WATER | $60 |
| 30 AMP/WATER | $68 |
| 30 AMP/WATER/SEWER | $71 |
| 50 AMP/WATER | $71 |
| CAMPING CABINS | $120/$130 |
| EXTRA ADULTS | $10 each |
| EXTRA VEHICLE | $10 each |
| DUMP STATION - for guests only | FREE |
| VISITORS (must leave the park by 10 pm) | $10 |
| RESERVATION FEE | $8 |
OFF SEASON RATES
| | |
| --- | --- |
| May 5-June 8/Sept 4-Oct 15 | Rates |
| BASIC SITE - no electricity | $42 |
| 15 AMP/WATER | $50 |
| 30 AMP/WATER | $58 |
| 30 AMP/WATER/SEWER | $61 |
| 50 AMP/WATER | $61 |
| CAMPING CABINS | $90/$100 |
| EXTRA ADULTS | $10 |
| EXTRA VEHICLE | $10 |
| DUMP STATION -for guests only | FREE |
| VISITORS (must leave the park by 10 pm) | $10 |
| RESERVATION FEE | $8 |
Price includes:
2 adults or 2 adults and their children under 18. Parking for 1 vehicle; 2 tents max. (some restrictions/fee apply)
Check in between 1pm - 10pm Please plan to be here by 10pm.
Check out 12 noon
Cancellation Policy
Cancellations require 14 days notice prior to arrival for a refund of the desposit. The reservation fee of $8 + HST is not refundable.
There will be no refund for cancellations with less than 14 days notice. There will be no refund for reservations made in the previous year (2022). Shortening your stay requires 14 days notice.
Happy Hearts Park Rules
WELCOME CAMPERS! KNOW YOUR RESPONSIBILITIES:
Check Out time is 11 am for cabins; 12 pm for all other campsites.
Vehicle tags must be visible at all times, on the rear-view mirror or on the dash.
Quiet Time is all the time. Music off by 10:30 pm. Please be considerate of your neighbours. If noise is excessive you may be asked to leave without refund. Children are your responsibility and are to be back at your campsite by 10 pm.
Visitors must register at the office and must leave by 10 pm. Fees apply.
Fireworks are not permitted at any time.
Clean campsites: Food and odours attract bears and other wild animals. Please store all food items (clean, dirty, empty or full) inside your vehicle.
Garbage dumpsters are located at the entrance to the campground. Please do not leave garbage on your campsite.
Swimming Pool is unsupervised and for campers only. Use at your own risk. Children 12 and under must be accompanied by an adult not less than 18 yrs. old.
Alcoholic beverages must stay on your site as well as cannabis consumption. For further details please check with the staff at the campground office.
Pets must be kept on a leash at all times and must be cleaned up after. If barking becomes a problem, you may be asked to leave. Pets are not allowed in the cabins. Pets must never be left at the campground alone.
Trees & Wildlife: Do not destroy wildlife, trees or damage property. Do not gather or remove fallen limbs for firewood in the forests surrounding the campground. Do not cut branches or peel bark from any trees.
No outside firewood! Transportation of firewood is a common way for invasive species to spread. The Asian Long Horned Beetle and the Emerald Ash Borer are destructive beetles that can harm our campground forest. Please do not bring firewood to our campground! Firewood is available for purchase at the campground store.
Dishes can be washed at your campsite or at one of our 2 dish washing stations. Please do not wash dishes in the washrooms.
Picnic table: one table per campsite. Please do not remove from other campsites.
Flood lights are not permitted after 10 pm. Enjoy the stars and our dark sky community!